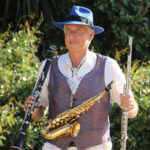 Matt Lester
Matt Lester is a highly skilled and versatile multi-instrumentalist, with a profound passion for creating captivating musical experiences through the enchanting sounds of the saxophone, flute, clarinet, harmonica, and piano. With an unwavering dedication to the art of music, Matt has honed his craft over many years, establishing themselves as a sought-after musician in the industry.
Matt is not merely a musician but a storyteller who communicates through his instruments. His performances are a testament to his technical prowess and artistic sensibility, leaving audiences spellbound and deeply moved. Whether performing in a solo setting, collaborating with fellow musicians, or as part of an ensemble, Matt brings a unique and captivating dimension to every musical endeavor.
With a diverse musical repertoire spanning various genres, Matt has enchanted audiences in intimate jazz clubs, concert halls, recording studios, and beyond. Their ability to adapt and innovate within different musical contexts is a testament to their versatility and musicianship.